IOT Maker Space is a great initiative of Telangana Academy for Skill and Knowledge (TASK) and Hyderabad Software Enterprises Association (HYSEA) promoted to all engineering colleges with an objective of looking into overall development of a student in terms of technical skills, presentation skills, innovative thinking, developing prototypes, and to get them ready as future entrepreneurs.
They conduct workshops, hackathons, lectures at college level and zone level. They invite mentors and jury from industry and academics to validate the ideas and for further guidance. Further, they arrange demonstrations with startup companies to share the experiences and also to promote the new innovations. Proud to say "BVRIT HYDERABAD' is also one of the colleges registered for IoT Maker Space and is supported by "UPTEC IDEA Labs" as Industry mentor. A Specialized lab with equipment worth Rs. 5 lakhs was also established.
As a part of this initiative, every year during summer they organize prestigious event called JNTUH EXCITE for a period of 45 days.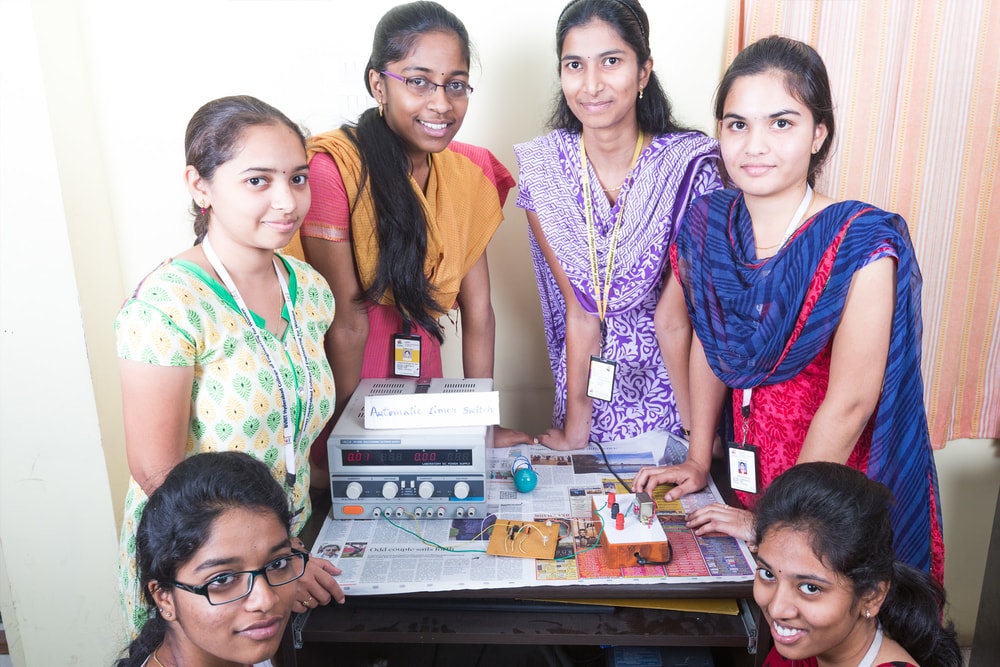 Faculty coordinators from BVRITH hyderabad
Over all Incharge
Dr. J. Naga Vishnu Vardhan
ECE
Technical Incharge
Mr. Ch Santosh
EEE
Internal Program Organizer
Ms. P. Prashanthi
ECE
Mr. Bhargav Ram
External Program Organizer
CSE
External Program Organizer
Mr A Rajashekhar Reddy
IT
Mentors from UPTEC IDEA Labs / IoT Maker Space
Mr. Pankaj Diwan, Mr. Sudheer
Mr. Mukesh,Mr. Praveen
IOT maker space registered students
Workshop on Raspberry Pi – 5th & 6th Feb 2016
Hackathon on – 20th Feb 2016
Workshop on Sensor data acquisition and deploying in cloud – 12th April 2016.
STUDENTS EXPOSURE TO OUTSIDE EVENTS THROUGH IOT MAKER SPACE
Ms. Y. Sai Radhika from ECE participated in NASSCOM product Conclave on 20th May 2016 at Hotel Novotel, HiTech City.
9 Students from IoT Maker Space attended three day workshop Ideation and Design thinking organized by IoT Maker space from 15th to 17th April 2016. Mr. Saleem Asst. Prof, CSE also attended the session.
Ms. Lavanya from ECE and Ms. Purnika from CSE attended workshop on packaging
Excite participants from BVRITH hyderabad – 2014-15
STUDENTS
M K Jyothi – ECE
P Naga Sai Anusha – ECE
K Gayathri Devi – IT
PROJECT
Solar Back Pack
MENTOR
Mr. R. Priyakanth Asst. Prof, ECE BVRIT Hyderabad
OUTCOME
Shortlisted in Top 25 and got fund of Rs. 15,000
STUDENTS
T Leena Angel – ECE
P Sravya – ECE
G Taruni – IT
PROJECT
Digital Jewellery
MENTOR
Mr. R. Priyakanth Asst. Prof, ECE BVRIT Hyderabad
OUTCOME
—
STUDENTS
N Usha Kiran – IT
K sai Meghana – IT
P Vineesha -ECE
PROJECT
Community Compass
MENTOR
Ms. S L Aruna Rao Assoc. Prof & HOD – IT BVRIT Hyderabad
OUTCOME
Shortlisted in Top 25 and got fund of Rs. 15,000
Excite participants from BVRITH hyderabad – 2015-16
STUDENTS
V H N Mounika – ECE
K Sai Srimai – EEE
T Namratha – CSE
PROJECT
Matha Sissu Paryavekshana (MSP) app
OUTCOME
Received appreciation from Industry mentors for the Idea
STUDENTS
P. Akhila- ECE
P. Swathi – EEE
J. Ashritha – IT
PROJECT
Automatic Gas leakage Detection
OUTCOME
Stood in the top 30th position
STUDENTS
T Sowmya Reddy – ECE
P. Nishitha – EEE
N. Medha Lalitha -CSE
PROJECT
Smart Bin
OUTCOME
Received appreciation from Dr. Sunil Shetty, Industry Mentor